Seminars
At the moment I am giving yoga classes here in Ireland. Please contact me for further details. Since 2004 after publishing my book I also began offering chair-yoga seminars. These yoga seminars are not only aimed at yoga teachers, but gymnastic teachers, physiotherapists, and health service professionals. At present I am available for international seminars.
Yoga training for tourists and visitors
Combine your holiday in Ireland with a completely new body feeling. I offer individual and group Classic and Chair Yoga sessions for beginners and advanced. For bookings please contact me.
Book and DVD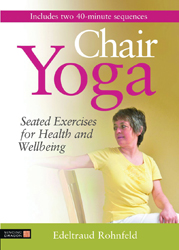 Chair Yoga
Edeltraud Rohnfeld, published by Singing Dragon, 2011
»www.singingdragon.com
»www.amazon.co.uk
NEW: The 80 minute DVD "Chair Yoga" is available in both English and German. You can order the DVD or the book in my store.
More about the book, DVD, APP and CD in the store ...