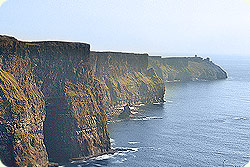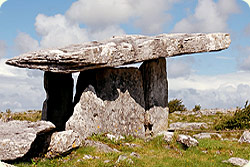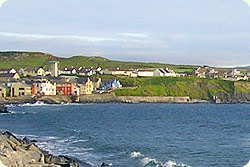 Clare with Cliffs and the Burren
Clare is a romantic county in the heart of Irelands Shannon region, a place of stunningly beautiful unique landscapes situated between the river Shannon and the Atlantic Ocean, in the middle of the westcoast. Nature, tradition, hospitality are some of the last hidden secrets Ireland still has to offer. If you wish for an active holiday or a place of tranquility, you will find it in County Clare.
Cliffs of Moher
In north Clare you will find one of the high lights of Ireland, the Cliffs of Moher. Otherwise known as "The Great Wall of Thomond", they drop a sheer 700 ft. into the atlantic. From the Cliffs you can enjoy a beautiful view of the Aran Islands, which lie just five miles off the coast. The islands Inishmore, Inishmaan and Inishsheer are accessable by Ferry from Doolin. The capital Town of County Clare is Ennis, a beautiful town with narrow streets, colourful houses, cosy pubs and nice shops. Main attractions are the Ennis Friary and the Clare museum.
Stony Burren
The Burren, situated in the north of Clare, is an anglicisation of the Gaelic term "An Bhoireann" which means "a stony place". It is of extreme importance to Geologists, Botanists and Archaelogists from Ireland and beyond. As the largest karstic limestone area in Western Europe, the Burren is an anomaly in the Irish landscape. The Burren is home to rare alpine plants, delicate wonders that grow in the thin soil. Those interested in the ancient history of Ireland will find megalithic tombs, Celtic Crosses, a ruined Cistercian Abbey and more than sixty wedge tombs. The Aillwee Caves are an introduction to the geology of the Burren. They are one of Irelands leading attractions with waterfalls, stalagmites and relics of bears - an essential part of any tour to the Burren.
Lahinch
The village is unique with a beach of 2 km of fine golden strand. Lahinch beach is a very famous surfing area in the west of Ireland. It lends a lovely back drop to one of the finest golf courses in Europe. Other activities are sailing, surfing, golfing, diving and snorkling, beach walking, horse riding, pony treking, and day trips. Watch rare birds or just relax in one of the homely pubs with good food and traditional Irish music. Lahinch Beach has been awarded The European Blue Flag by the European Parliament and FEEE, an important environmental award.
Photo 1: pixelio.de / Malz
Photo 2: pixelio.de / Mathias Klingner
Photo 3: Edeltraud Rohnfeld.